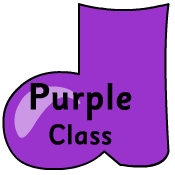 Purple Class News

Hi Purple Class children!
I think our classroom is looking lovely, but is missing something...you! I hope you are feeling rested and ready for a good start to the new school year.
In the first few days we will be starting our learning about the Romans. If you would like to do some learning at home over the weekend, then that would be great. Perhaps you could make a poster, or complete a piece of artwork - bring it in on Monday if you would like to show it to the class.
I have lots of exciting activities planned for us this term so I am looking forward to seeing you next week.
Miss Kuriger :)
It is a very exciting time at BFS, the new build has been completed and Red Class and Green Class are already enjoying our light and airy new classrooms.
In September, we will be welcoming Purple Class to BFS! Look out for our new class page coming soon!