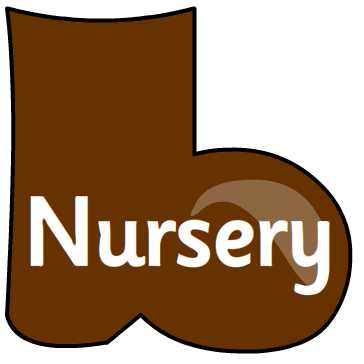 Nursery News

Hello Nursery children,
Another week has flown by!
Our storybook this week has been the Enormous Watermelon and we have had a lot of fun with it.
We have learnt some unfamiliar nursery rhymes e.g. Old Mother Hubbard, Wee Willie Winky.
Humpty Dumpty helped us listen to and create sounds with instruments, We felt sorry for poor Humpty when he fell off the wall and actually cracked!
Let's not forget growing (and then eating) our very own Watermelon - can you remember the two things we gave the seed to make it grow? We all then enjoyed playing our "Pass around the Circle" game with the watermelon. It made us all giggle as it was so heavy!
Watermelon playdough was another highlight this week. Can you remember the two colours we used to make green?
The characters from the story made a visit to our Forest School too when Mrs Allen used charcoal to draw them on stones. It was great to see you retelling the story using these in our outdoor "Story Area".
Thank you to the families who baked for the cake sale on Friday. Alongside Blue class, we raised £87!
We hope you are all having a lovely weekend and look forward to seeing you on Monday ready for some breadmaking!
Mrs Mander, Mrs Allen and Mrs Franklin
Hello my Little Farmers!
You have made a super start to learning all about our new topic "Harvest".
You have been counting vegetables, naming vegetables, singing about vegetables, dancing around vegetables, digging up vegetables, doing magic tricks with vegetables, reading about vegetables.....I bet you will be dreaming about them all weekend.
The highlight for us this week was today when we made and ate our very own vegetable soup. You tried hard to make the vegetables as small as possible so that we could get them cooking in the soup maker. Did you enjoy squishing potatoes into mash? Did you enjoy squeezing those tomatoes? Can you remember the two tools that we used? Mrs Allen and I both enjoyed our very first outdoor meal together in the fire circle - the warm soup in cups really warmed our hands. A big well done to all of you who tasted it even though you said you didn't like soup! It is always so important to try new things.
We have been so lucky with the weather this week and Mrs Allen and I have loved watching you become more confident to explore our building area, the water in the gully and sweeping all those leaves. The fairies/elves and story sticks were a huge hit too - you could have a go at making one at home and bring it in to share with us next week?
After all that fresh air and warm homemade soup in your tummies, I bet you will sleep well tonight, I know we will.
Have a lovely weekend,
Mrs Mander, Mrs Allen and Mrs Franklin
Please download the latest newsletter here
Hello Everyone.
Thank you to those who were able to attend last night's information meeting, explaining the principles and practice behind the Nursery provision. Mrs Mander has the slides available as handouts should you want to collect a copy to take home.
Best wishes,
Mrs Moss
Hello Everyone,
We hope you all enjoyed visiting the Scarecrows this Friday after school. Did you remember the name of our "school" scarecrows? You can tell us about the others that you saw on Monday.
Our 'Mud Kitchen' is now open and didn't we all enjoy exploring this new part of our Forest school? I have never seen so many muddy hands, sleeves, arms, feet and legs. Please remind your grown ups to pop in a complete change of clothes for you to be left in the Boot Room as it appears we are going to need a lot this year. :-)
Our indoors circle time sessions are becoming a fun part of the day. This week we have made orange playdough. Can you remember the two colours we mixed together to make orange? We enjoyed finding those noisy farm animals but it was really tricky to use just your ears to find them. You all did really well. We also had a lot of fun in our number sessions by spotting things in our environment that are long and short and we used our "dough disco" sessions to create some long and short shapes by rolling.
We are looking forward to seeing you all next week for the start of our Harvest topic where we will be making soup. Get those hands ready for some hard work as we have vegetables to prepare!
Enjoy your weekend.
Mrs Mander, Mrs Allen and Mrs Franklin
Hello Everyone,
What happens at Blackwell Nursery and Forest school? Come along to our workshop for families on Wednesday 4th October at 3.30pm in Red Class. The children can remain with Mrs Allen and Mrs Roberts in Nursery.
We will explain the principles behind our practice, describe what they get up to indoors and outside and how this supports their learning and school readiness.
We hope that you can come.
Mrs Webb, Mrs Mander and the Early Years team
Thank you, children, for another wonderful week. You are all doing so well at saying goodbye to your grown ups in the morning and coming in ready to start our busy day. Our visual timetable is helping you to become familiar with our daily routine.
This week at Forest school, we have enjoyed using the tools in the sand. You are doing so well at cleaning and putting the tools back in their place when you have finished with them. Mrs Allen and I have seen some lovely sharing too. On Thursday and Friday, you enjoyed building our very own Betty and Harry (from Blackwell school) scarecrows. Please bring your grown ups to see them on the balcony on Friday 29th September after school.
Indoors, during our Speaking and Listening sessions, we have been practising the skill of keeping quiet to help with listening skills. Try to hide a noisy toy. Then, with everyone else keeping quiet, see if your grown ups can find it using their ears only.
We have been "sorting" in our Maths circle time by colour, shape and size. We even started sorting colours by their shades e.g. dark green and light green. We are looking forward to 'using and choosing' our super sorting skills to sort autumn leaves.
You have all really enjoyed learning our first Write Dance song "Sandy Hills." Can you remember the words and actions? We have started to put these actions into a drawing. Next week, we will draw with chalks and in the sand!
We hope you have a lovely weekend and look forward to seeing you all next week.
Mrs Mander, Mrs Allen and Mrs Franklin
What a super second week at Nursery! We have made some new friends and it has been lovely to see you sharing the Nursery and making them feel welcome.
With our Forest school almost complete, we've started to explore the outside areas. We have been weaving in the fences, shelter building, "collecting" with our new bags and we were excited to start using our fire circle. Mrs Allen showed us a fun game to remind us to never cross the circle and to always step behind your seat and walk around. We even created a pretend fire to help us to remember the rules.
You are all doing so well putting on and taking off your shoes, slippers, wellies, waterproofs and coats. Please keep practising this at home as the more you do it,the easier it will get, I promise.
We have all enjoyed munching our way through fruity snacks whilst talking to our new friends and let's not forget those lovely hot lunches. Mrs Barker's cooking, and those wonderful puddings, really help to keep our energy levels up for the afternoon.
After a busy morning outside and a hot lunch, you have all enjoyed our quiet time. This is a time to lie back and relax as you listen to a story CD or some peaceful music. It is important, in our busy world, to take some time to relax and to recharge our bodies ready for the next adventure.
Our indoor sessions have been great too. We have used bubbles to help us sit still and funny glasses to help us look. These skills are really important for listening. To make our story experience meaningful, we even tried (and ate!) Baby Bear's porridge from 'Goldilocks and the Three Bears'. Some of us were brave enough to eat Daddy Bear's porridge too. I hope he doesn't use his cross voice with us!
We hope you have a lovely weekend and we look forward to another wonderful week.
Mrs Mander, Mrs Allen and Mrs Franklin
Dear Nursery Families,
We've enjoyed a wonderful week in our new Nursery. The children have settled well into their new routines and it's been a pleasure to see them exploring their new environment. This week, the children have been finding out how to use the tools, equipment and toys in the new indoor areas. The dough and natural art areas were of particular interest! From the very beginning, we establish rules and routines to help the children to look after and care for their environment and each other. They've made a great start to their learning journey.
Next week, remember to send a pair of named wellies into Nursery because the children will be venturing outside. A little girl with golden hair will be introducing the children to their new Forest School. A journey of discovery is about to begin...
Best wishes,
Mrs Webb, Mrs Mander and Mrs Allen :)
Hello Everyone,
I hope that you have had a good summer holiday. We are looking forward to seeing you all over the next few weeks. The builders have worked solidly all over the summer and we are very grateful because the building and grounds are almost complete. The building will be able to be used from Wednesday and the grounds will be developed over the coming weeks.
When the children arrive, please bring them in through the main school gate at 8.30am and accompany them to the Nursery along the side path and up the ramp. Once they reach the boot room, please help them find their peg and hang up any bags and coats that they have and then help them take off their shoes and leave them outside Nursery. After this you can say goodbye at the door and send them in. If they are a little more reluctant to go straight in, you can stay on the balcony with some of the toys and play with them until they are ready for you to leave. An adult from Nursery will help with the transition.
At the end of their session, please come back to collect them and wait on the balcony whilst staff prepare them for hometime and send them out to you. You can then help them collect their coats/ bags from the boot room. (If you are collecting at 3pm, please wait on the front playground until 3pm to avoid congestion in the Forest School boot room with the older children). If you wish to speak to staff, please let them dismiss all of the children who are going home from Nursery first, and wait on the balcony until they are available.
On the first day, remember that they will need: 20p per session for snacks (£1.00 for 15 hrs and £2.00 for 30 hrs per week); a change of clothes; spare underwear and socks in their bag; some non perishable snacks to keep in their bag in case they find a hot lunch a little tricky and sun hats/ coats (weather dependent).
As a new venture and new build, we may well experience some small hiccups (we had forgotten toilet roll holders!), so please be patient and talk to us if this is the case.
We are all very excited and looking forward to welcoming everyone to Blackwell First School Nursery and Forest School from Wednesday onwards.
Best wishes,
Mrs Moss
Dear Families,
We are looking forward to welcoming you all over the coming months and below are some photographs to share the progress that is being made towards the completion of the Nursery building.
We will add a further message during the final week of the summer holiday to let you know how work has progressed and the arrangments for drop off/pick up at the start of term.
Click here to view photographs.
Best wishes,
Mrs Moss
Hello Nursery Families,
Welcome to Blackwell First School Nursery and Forest School. Mrs Mander and Mrs Allen are looking forward to meeting you all soon and will be contacting you to arrange home/ Nursery visits over the next few weeks.
We are ordering all of the new equipment in anticipation and waterproofs are top of the list!
Best wishes,
Mrs Moss, Mrs Mander and Mrs Allen :)
Preparations for our new nursery are well underway! Building work starts next week during half term and continues through the next half term and through the Summer holiday.
Pop back here to track our progress.